Brazil legend and current goalkeeping coach Claudio Taffarel believes Liverpool target Alisson has all the ingredients to be the best goalkeeper in the world.
Alisson has been heavily linked with Liverpool and Real Madrid after an excellent season with Roma.
The 25-year-old is unlikely to sign a new deal with the Italian side and could well be the second Roma player in two years - after Egyptian Mohamed Salah - to make a move to Merseyside.
However with this summer's World Cup looming, a deal before the tournament looks unlikely. Alisson is strongly rumoured to captain Brazil on Friday when the Selecao meet World Cup hosts Russia in Moscow.
Brazil national team's goalkeeping coach Taffarel was full of praise for his countryman and believes he is already the stand-out stopper in Serie A, ahead of Juventus' Gianluigi Buffon.
"In the time that we worked with him at Internacional and with the national squad, we knew he would reach a high level," he told Omnisport.
"I'll always respect the career of Buffon, who has been brilliant. But I believe that Alisson, as a goalkeeper, is more technical with a different posture.
"He always stands assertively and is confident in what he does. Alisson is really impressive.
"There is more time needed to see if he can reach the top or not, but he has the qualities to stay on top and become the best goalkeeper in the world, without doubt."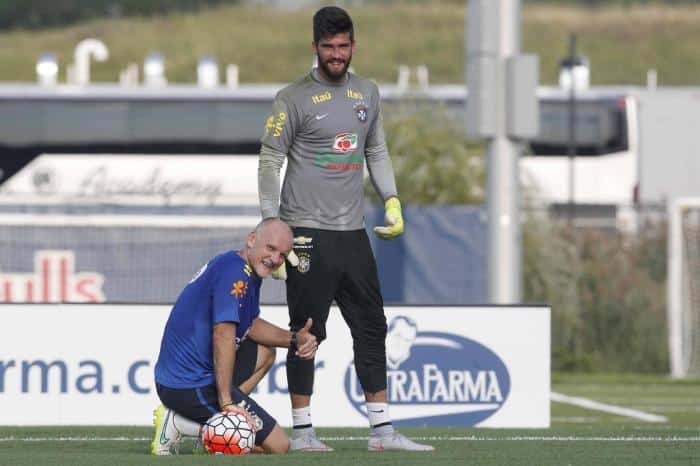 Liverpool are highly unlikely to keep goalkeeper Simon Mignolet this summer, after Loris Karius took over as number one. The Belgium joined the Reds back in 2013 and has made 151 Premier League appearances for the Anfield side.
He said back in January: "After everything that has happened this season, I know where I stand and the situation has become clearer.
"Of course I also have to think about my own future, the only thing I can do is focus on the training and do my best, I'm 30 years old and the World Cup is coming in.
"This situation can not last too long, that's clear. I can not say more about it."