Liverpool beat Manchester City 4-3 at Anfield in the Premier League back in January. Re-watch all 90 minutes ahead of their highly-anticipated midweek Champions League clash.
Liverpool last faced City at Anfield in January; an exciting game finishing 4-3 to inflict the league leaders' only league defeat of the campaign.
Alex-Oxlade Chamberlain's low strike gave Jurgen Klopp's side an early lead, but City levelled before half-time through Leroy Sane, who beat Loris Karius at his near post.
Two decisive moments an hour into the game saw Liverpool pounce, when poor defending by John Stones let in Roberto Firmino, and Sadio Mane struck a stunning finish high past Ederson.
Ederson's poor clearance gifted Mohamed Salah a fourth, and despite their late wobble, Liverpool closed out the win to go third in the table.
Klopp's side will take on their counterparts once again in the first leg of the Champions League quarter-finals on Wednesday night at Anfield.
Reacting to the draw, Klopp said last month: "It is exactly like it was before – we take what we've got. Now it's Manchester City, let's go.
"We've lost once and we've won once against them in the league – and I don't think they thought before the best draw they could have got is Liverpool. That's a sign for us and how strong we can be.
"In this case, it's not too important [to be playing away in the second leg]. For us, it's completely normal. We can get a result at home for sure, but it's obviously a difficult game."
Re-cap their January encounter below.
Goals
‣ Oxlade-Chamberlain (9')
‣ Sané (40')
‣ Firmino (59)
‣ Mané (61')
‣ Salah (68')
‣ B Silva (84')
‣ Gündogan (90')
First-half
Sorry, this video is no longer available.
Second-half
Sorry, this video is no longer available.
Mohamed Salah scored his 37th goal of the season as Jurgen Klopp's side came from behind to record a 2-1 win over Roy Hodgson's Crystal Palace on Saturday.
Luka Milivojevic sent Palace ahead from the penalty spot in the 13th minute, however Sadio Mane levelled early in the second half before Salah came up with an 84th-minute winner for the away side.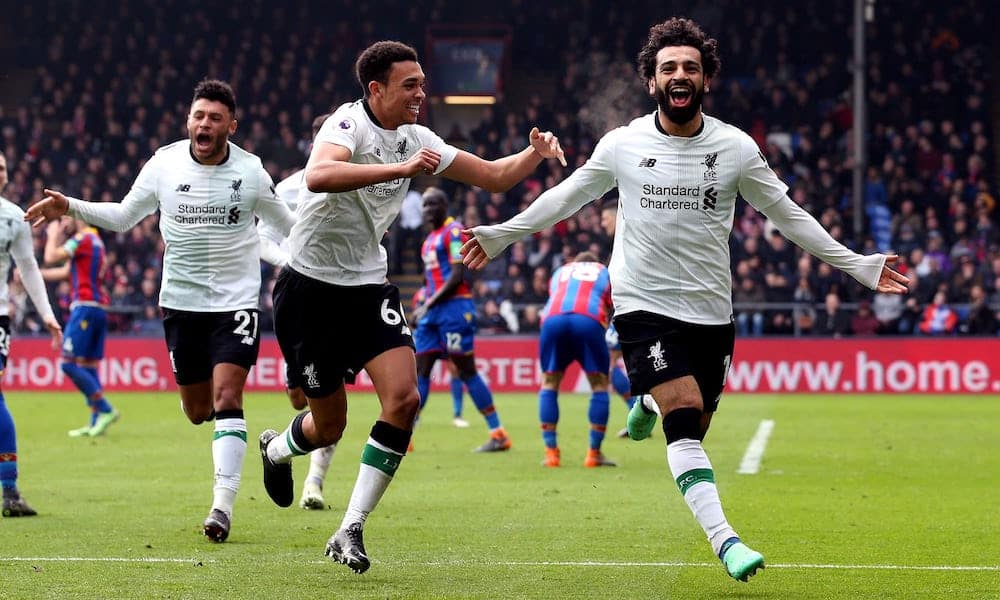 Meanwhile, Manchester City extended their winning run in the Premier League to five games on Saturday. Pep Guardiola's side, who are 16 points clear at the top of the table, eased to a 3-1 victory over Everton at Goodison Park.
City face Manchester United in between the two European fixtures – and would secure the title with victory – however Guardiola revealed the games against the Reds will take priority.
"Now our focus is the Champions League so we are going to adapt the game against United for the Liverpool games before and after," he said.
"With the distance we have [at the top of the league], we have to be focused on the Champions League and in the middle we have United – who of course we are going to try and beat and try and play – but the line-up will be thinking about Liverpool."