UEFA have announced they have charged Liverpool FC over crowd troubles at their Champions League fixture with Manchester City at Anfield on Wednesday.
The European football's governing body have opened disciplinary proceedings after a raft incidents, which marred a sensational 3-0 first leg quarter-final win for Jurgen Klopp's side.
The club have been adjudged to breach Article 16 of UEFA's disciplinary regulations four times, relating to the behaviour of some Liverpool supporters on the night.
The Reds have been charged with acts of damage, crowd disturbance, the throwing of objects, and the setting off of fireworks, which UEFA's rules strictly prohibit.
The acts of damage and crowd disturbances relate to incidents involving the damage caused to the Manchester City bus as they entered the ground ahead of the tie.
UEFA's sanctions of setting off fireworks and throwing of objects relate to incidents from inside the ground around kick-off.
Article 16 states that Liverpool FC are partly responsible for the order and policing both inside and around the stadium before, during and after matches.
Unless the club can prove that they have not been negligent in the organisation of the match, they are liable for the incidents and may be subject to harsh disciplinary measures.
Liverpool are also wholly liable to ensure their supporters behave in an appropriate manner, despite a lack of negligence in relation to the organisation of the match.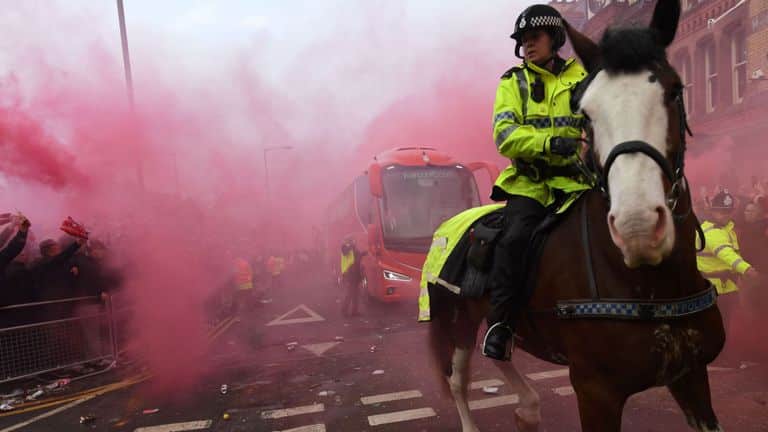 The club issued a statement prior to kick-off, apologising unreservedly to Manchester City and Pep Guardiola's side.
"The club condemns in the strongest possible terms the scenes which preceded our Champions League quarter-final, which resulted in damage being inflicted on the Manchester City team bus during their arrival at Anfield," the statement read.
"We apologise unreservedly to Pep Guardiola, his players, staff and officials caught up in the incident.
"The behaviour of a number of individuals was completely unacceptable and the club will cooperate fully with the authorities to identify those responsible.
"The priority now is to establish the facts and offer Manchester City whatever support is necessary."
Two Merseyside Police officers were hurt during the crowd disturbances, whilst Manc City had to arrange a replacement service back to Manchester following the damage to their bus.
The police have confirmed an investigation is underway, while Liverpool have also confirmed they will conduct their own enquiry and assist Manchester City with "whatever support is necessary".
Merseyside Police match chief Superintendent Paul White said the force "will conduct enquiries to identify who was responsible and bring them to justice".
He added: "The officers and stewards are there to protect the public and keep them safe. It is disappointing to see that a number of people behaved in this appalling way."
Any sanctions that UEFA deem appropriate would apply only next season as the case will not be heard by UEFA's disciplinary body until May 31 - after this year's final in Kiev.