Liverpool FC have released a statement relating to the damage caused to the Manchester City coach outside Anfield before the Champions League tie between the two sides on Tuesday.
Videos uploaded on social media showed cans, bottles and flares being thrown at the City coach as it arrived at the ground ahead of kick-off.
UEFA is known to take these incidents very seriously and may charge Liverpool accordingly in the following days.
Liverpool FC released an apology shortly before kick-off, saying: "The club condemns in the strongest possible terms the scenes which preceded our Champions League quarter-final, which resulted in damage being inflicted on the Manchester City team bus during their arrival at Anfield.
"We apologise unreservedly to Pep Guardiola, his players, staff and officials caught up in the incident.
"The behaviour of a number of individuals was completely unacceptable and the club will cooperate fully with the authorities to identify those responsible.
"The priority now is to establish the facts and offer Manchester City whatever support is necessary."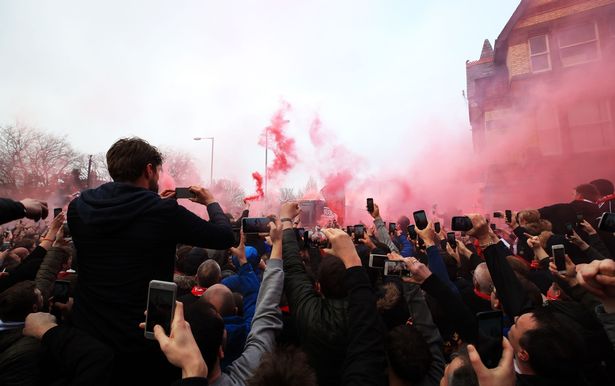 Merseyside Police match chief Superintendent Paul White said the force "will conduct enquiries to identify who was responsible and bring them to justice".
He added: "The officers and stewards are there to protect the public and keep them safe. It is disappointing to see that a number of people behaved in this appalling way."
Both managers also reacted following the Champions League which finished 3-0 following goals from Mohamed Salah, Alex Oxlade-Chamberlain and Sadio Mane.
Jurgen Klopp: "I really don't understand it. We tried everything to prevent a situation like that. When we came through it was obviously very positive. For Liverpool FC I have to say sorry."
Pep Guardiola: "Thank you to Jurgen for his apology. We didn't expect that, I didn't expect that. I know that is not Liverpool, the history of the club is much bigger than this four or five or 10 guys. Hopefully it doesn't happen again."
Klopp's side next face Merseyside rivals Everton on Saturday, before travelling to the Etihad for the second leg of their Champions League quarter-final on Tuesday.