Here's how the UK's national papers saw Liverpool's 4-0 win over Barcelona as they reached this year's Champions League final in Madrid.
A brace for both Divock Origi and substitute Gini Wijnaldum incredibly overturned Barcelona's three-goal advantage from the first-leg as Liverpool knocked the La Liga champions out 4-3 on aggregate.
MORE: Liverpool 4-0 Barcelona – Highlights
Liverpool delivered a near-perfect performance to defy all odds and secure progression to the Champions League final on 1 June, where they will face either Ajax or Tottenham at the Metropolitano Stadium in Madrid.
See what the media had to say about Liverpool's superb victory over Barcelona on Tuesday night.
The Guardian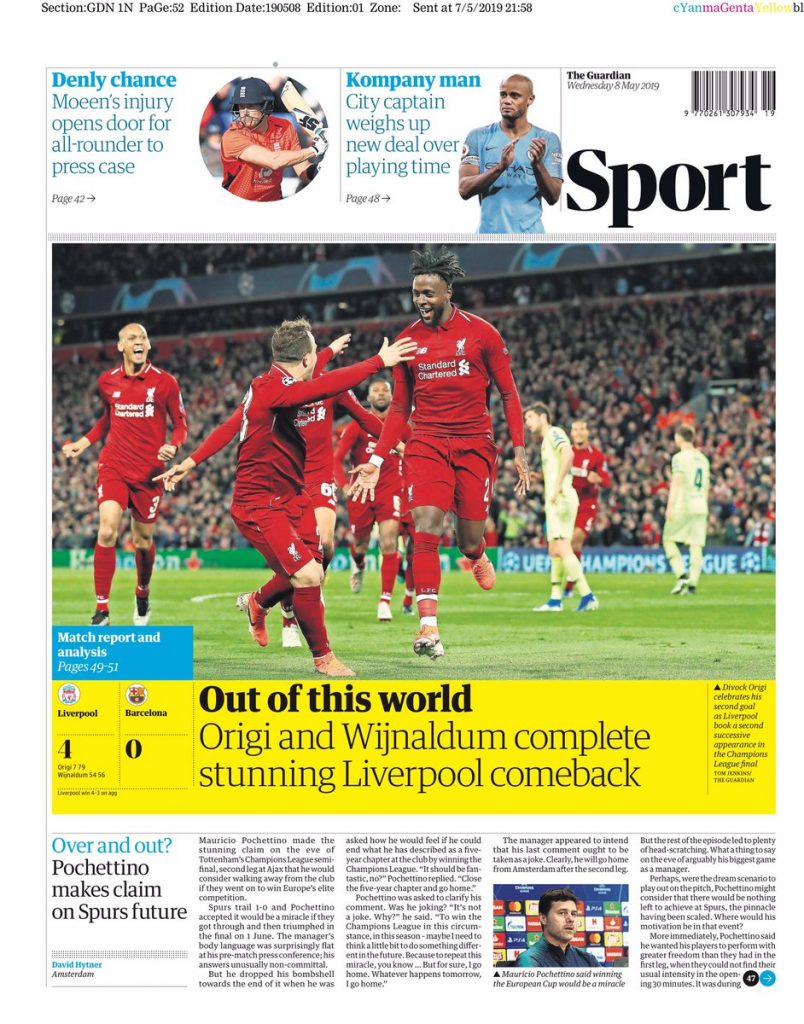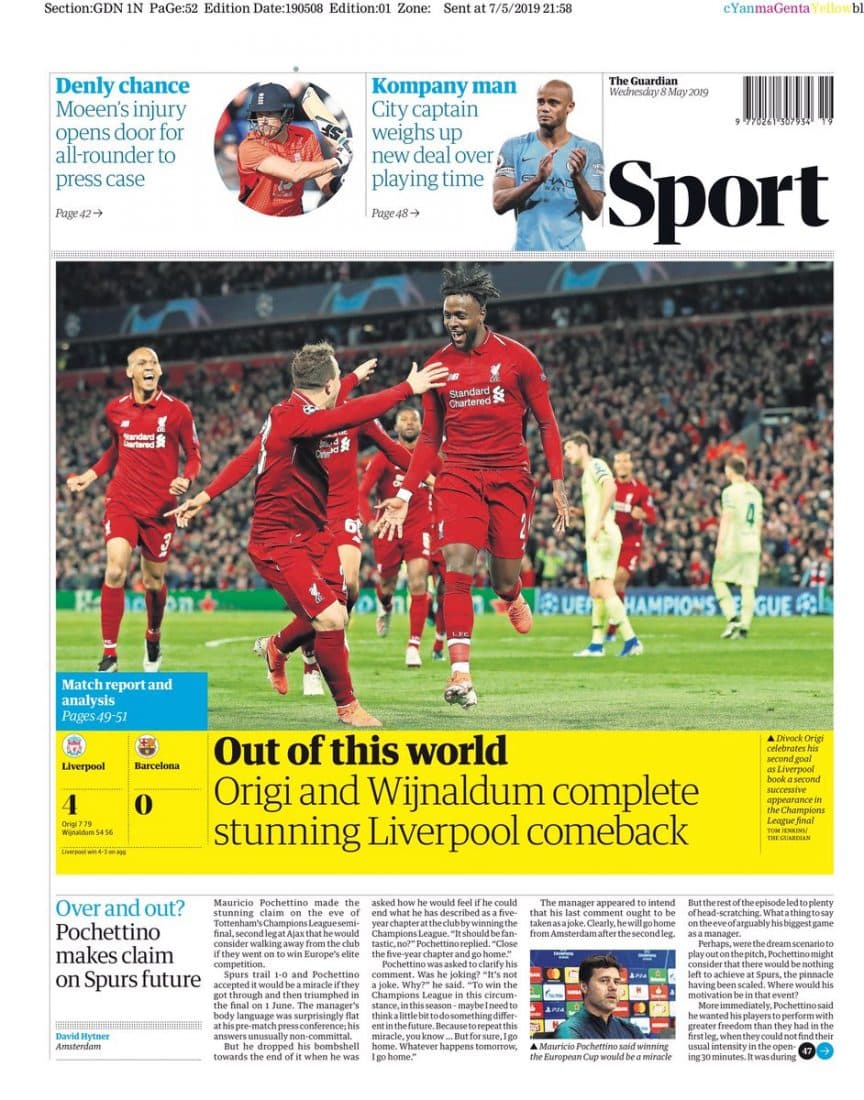 The Guardian's Daniel Taylor was full of praise for Liverpool, highlighting the significance of their victory over a star-studded Barcelona:
"Of all the incredible nights at Anfield, where does this one count? It has to be at the very top, presumably, given who they were playing, the importance of the occasion and the overwhelming feeling, despite everything this stadium has witnessed over the years, that Liverpool have never quite managed anything this spectacular before, with the floodlights on and the European Cup as the target.

"It made for a tremendous spectacle, full of everything that makes football so absorbing, and culminating in the decisive moment, in the 79th minute, when Trent Alexander-Arnold took a quick corner and only one player was tuned in. It was Origi, again, clipping his shot past Marc-André ter Stegen for a goal Anfield will never forget.

"Another team might have shrunk because of what happened to them at the Camp Nou. Not Liverpool, though. Anfield always cranks up the volume on the European nights and Origi's first goal, seven minutes in, had come early enough to fill the stadium with the belief that, yes, it could happen.

"Sadio Mané, in particular, played as though affronted by the suggestion the tie could not be salvaged. Fabinho chose an ideal time to put in possibly his best performance in Liverpool's colours and Wijnaldum can reflect on a hugely satisfying night's work after replacing the injured Andrew Robertson at half-time."
The Mirror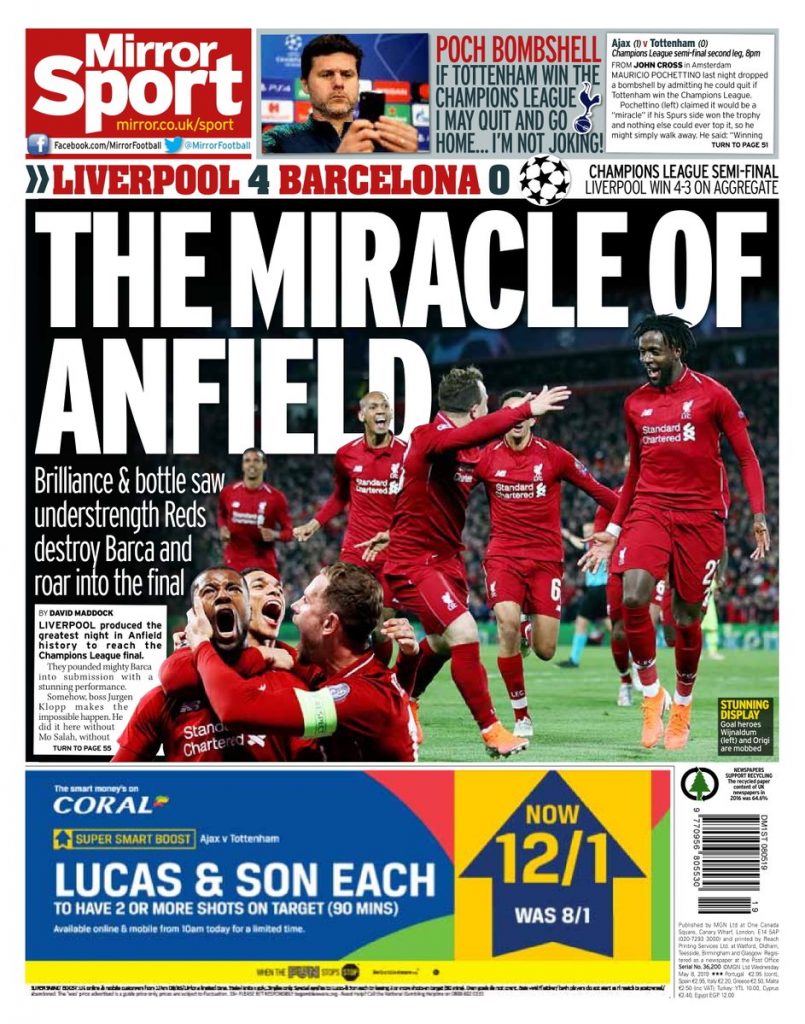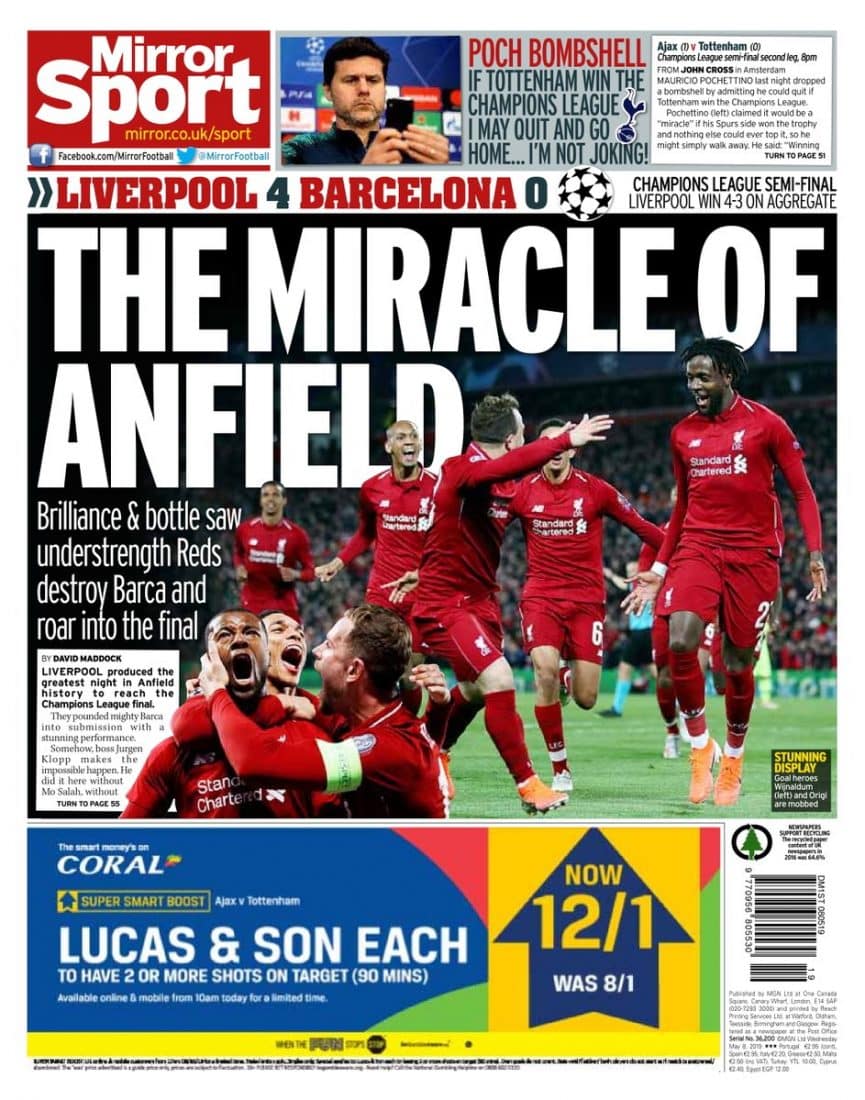 The Mirror's Liverpool correspondent, David Maddock, insisted this was Liverpool's greatest night in their illustrious European history - and it was all down to Klopp, who orchestrated a "perfect game-plan".
"Never before has this famous old stadium been shaken to its very foundations like this. The noise, the sheer power of the Kop was greater even than in the 2005 semi, which is regarded as the benchmark.

"This was football at its most raw, and most beautiful, the sheer ferocity and emotion of a quite astonishing night making even Lionel Messi look a mere mortal, and Barcelona a pub team at times. Never in their history can they have given the ball away so often.

"That is what this occasion did to them. They could not handle Anfield. In the modern parlance of social media, they simply bottled it in the firestorm they faced. And at the end of it all, Liverpool are back in the Champions League final.

"It took all the genius of Klopp to get them there. It is one thing feeding off the greatest atmosphere in club football, but another executing the perfect game-plan without a moment's hesitation or nerves. This was a clinical performance wrapped in emotion."
The Telegraph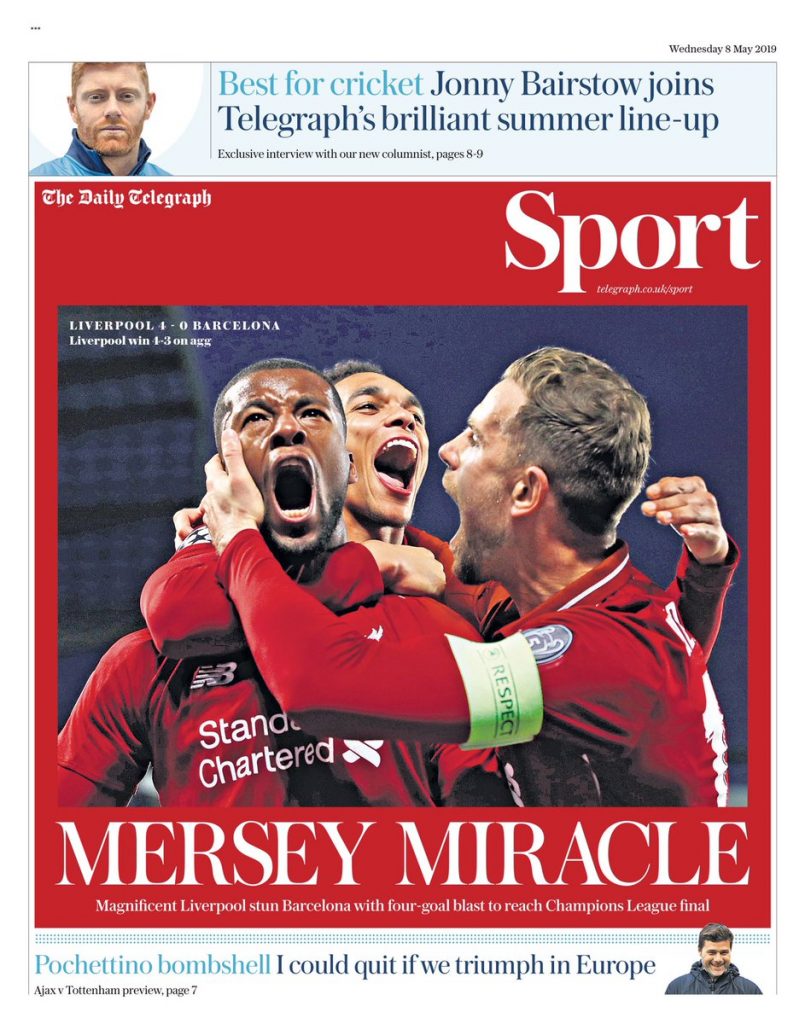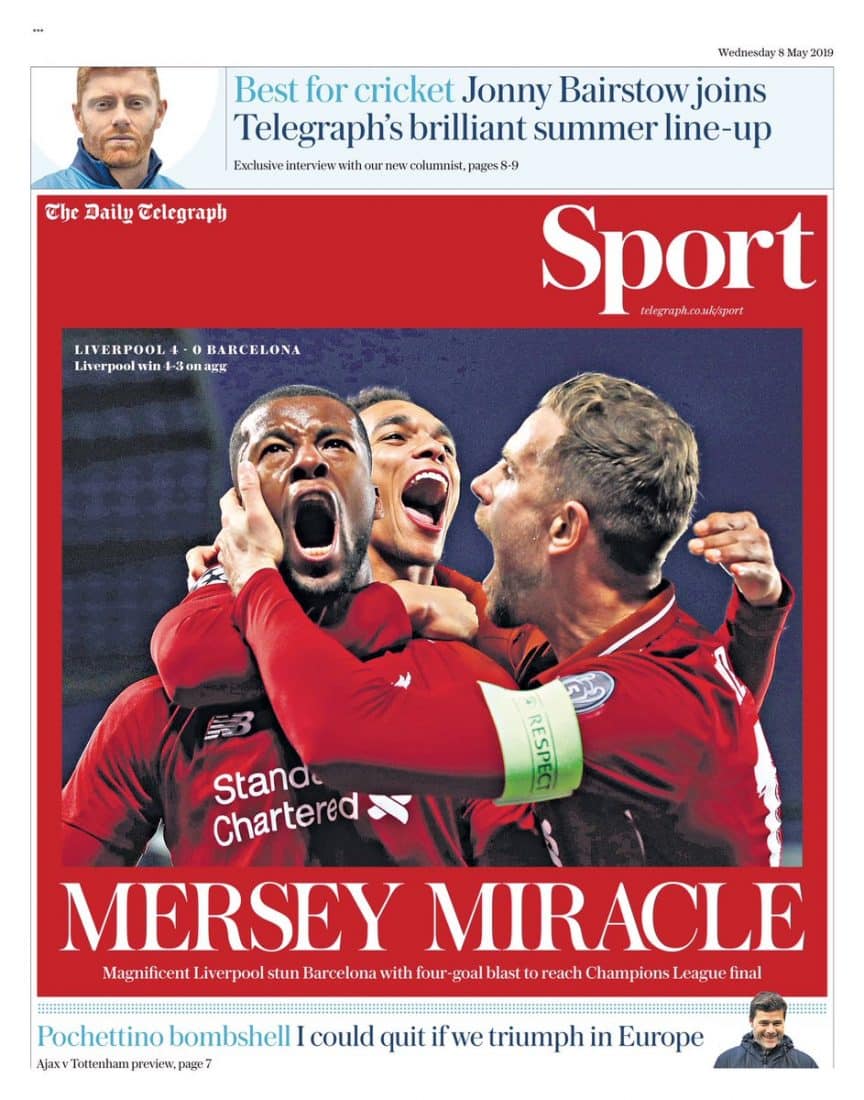 The Telegraph's Sam Wallace also believes Liverpool's comeback ranks among their best performances in the competition as he notes the power of Anfield on night like Tuesday.
"Jamie Carragher, one of the men at the heart of the Liverpool comeback from three down against Milan in 2005, declared it Anfield's greatest ever night and who are we to argue? Liverpool did it by assuming the role of the team in control even at three goals down and eventually even Barcelona fell thrall to that idea.

"Klopp said that he had told his team to attack with everything at their disposal and defend with whatever came to hand. He asked them to be "cheeky" when they could and by a thousand audacious, confident acts they turned the tide in their favour.

"They may not win the Premier League but in Madrid on June 1, they will contest the ninth European Cup final of their history, against Tottenham Hotspur or Ajax Amsterdam, their fourth of the Champions League era. The kings of the comeback are back again playing football on the edge and this time they will be favourites against whoever emerges triumphant in Amsterdam on Wednesday night.

"Every club likes to think that when it matters they will turn their stadium into a decisive force, and there are many who put considerable store in the theory that no-one does it better than them. You spend the rest of your life arguing the relative merits, although you only had to be in Anfield on this night to know that the mood of the place, the certainty, that old whisky roar coupled with all the stuff that has gone before, can get into an opponent's head – even a good one."
The Times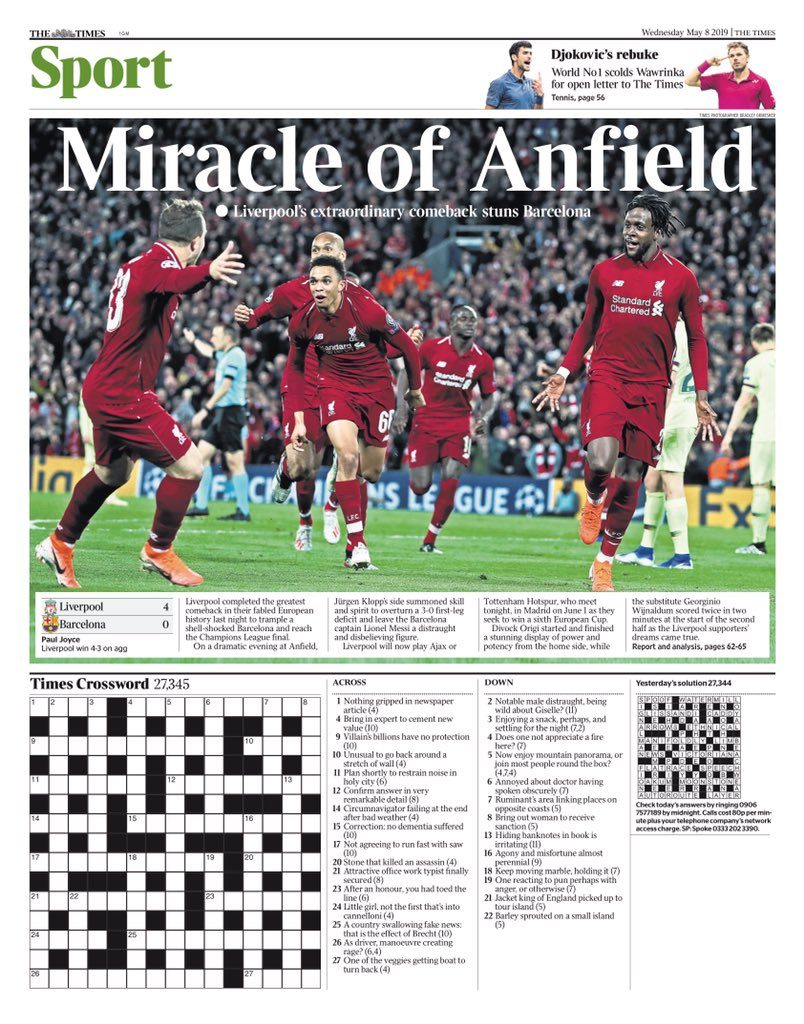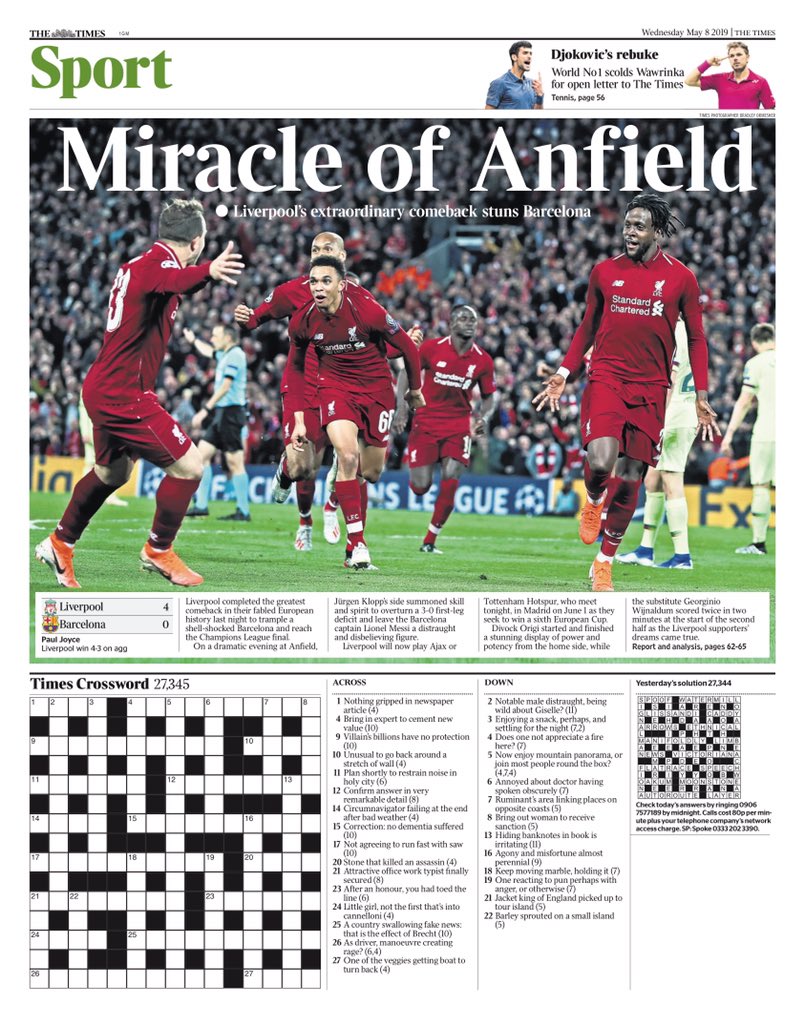 The Times' Matt Dickinson writes how the atmosphere surrounding the game was one entirely different to reality.
"There was certainly no ducking the challenge of Barcelona, which was met by a performance of furious intensity to match the decibels at Anfield.

"Dead game? That idea was rubbished by an atmosphere of fervour even before Divock Origi put Liverpool ahead after just seven minutes to turn fragile hope into real belief. By the time Liverpool were 3-0 ahead after less than an hour, it had become disbelief inside Anfield.

"At 4-0, it was a triumph which showed exactly why most fair observers felt that Liverpool had not deserved that 3-0 reverse at the Nou Camp in the first leg, when a bold performance, rattling Barcelona for long periods, had been undermined by one man's genius.

"It showed just why any carping about Liverpool this season, and the idea that they would be losers if they failed to win a trophy, was ridiculous all along. They are now going to a Champions League final for successive seasons; a third European final in Klopp's four seasons of brilliant progress."
Daily Mail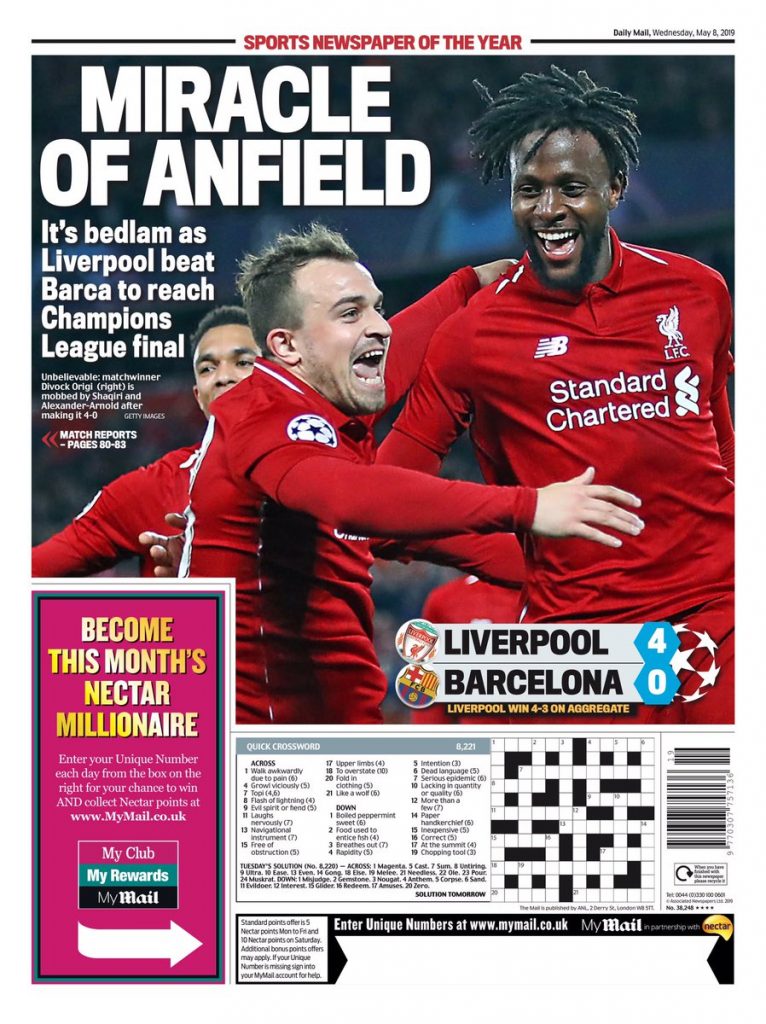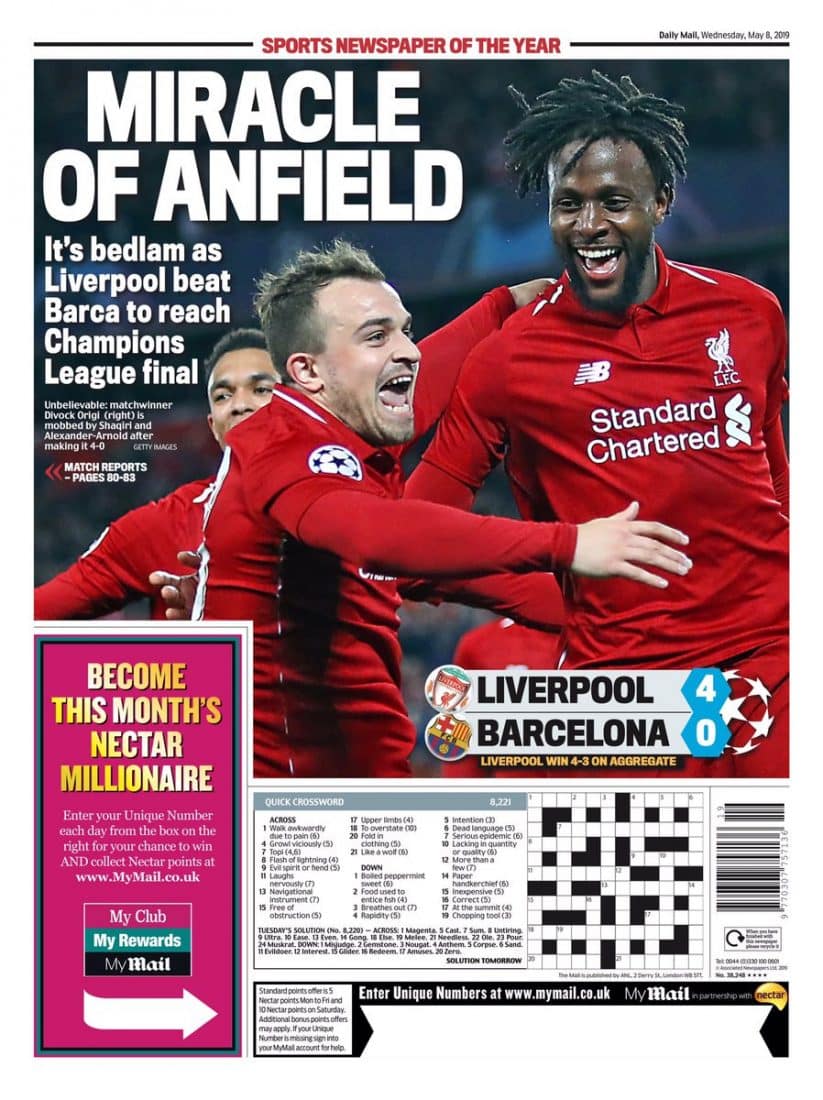 The Mail's Martin Samuel suggests that even if Manchester City do win the Premier League title, it can still be Liverpool's season too following their exploits against Barcelona.
"Suddenly, however, the potential disappointment of falling a point short to Manchester City on Sunday, did not appear so bleak. Liverpool will have something to play for beyond that. They will have a second consecutive Champions League final but, this time, not against the most experienced team in Europe. Liverpool will face the winners of tonight's meeting between Tottenham and Ajax. It could be a perfect ending. Even if it is Manchester City's season, it may be theirs too.

"And they would deserve it like no team before; they would deserve it as much as they did not deserve the three goal defeat at Nou Camp that had to be overturned on Tuesday night. First, by a team shorn of its finest strikers in Mo Salah and Roberto Firmino and then, after half-time, without one of the stand out players of this season, Andrew Robertson.

"Just as Chelsea conquered Europe with Jose Bosingwa at centre-half and Ryan Bertrand playing left midfield, Liverpool swept aside Barcelona with Divock Origi leading the line, Xherdan Shaqiri in support and James Milner as a makeshift left-back.

"What a performance it was. Liverpool did not just defeat Barcelona physically, but technically, tactically, and ultimately intellectually, too. Barcelona, considered by many the greatest team in Europe, were outsmarted by a 20-year-old from West Derby in Merseyside. Trent Alexander-Arnold was still thinking when Barcelona stopped for the fourth goal, meaning he sold them a dummy that resonated across the globe as loud as any shot, sending Liverpool to Madrid on June 1."