Watch legendary Liverpool manager Bill Shankly speak to Thames TV, in previously thought to be 'lost' rare footage of the Reds' most iconic figure, as he discusses his ideology and roots.
The full interview (available below) is a great insight in to the man whose vision took Liverpool Football Club to the greatest of heights.
The interview first aired in the United Kingdom on the 24th of March, 1976.
A timeline of legend Bill Shankly
02.09.1913 - William Shankly is born in Glenbuck, Scotland.
1931 - Plays for local team, Cronberry Eglinton, in Ayrshire.
1932 - Shankly moves south of the border where he joins Carlisle United in Third Division North.
July 1933 - After an impressive season for Carlisle Shankly signs for 2nd division Preston North End. Preston were soon promoted as Shankly's career blossomed.
09.04.1938 - Shankly was first selected to play for his country against auld enemy England in a 1-0 win at Wembley.
30.04.1938 - Shankly's highlight as player when Preston wins the FA Cup by beating Huddersfield.
29.06.1944 - Bill marries Agnes "Nessie" Fisher.
22.03.1949 - 35-year-old Shankly felt he had much more to offer as a player, but took the manager's job at Carlisle United.
June 1951 - Grimsby's board felt Shankly was the right man to resurrect the club that had dropped from Division 1 to regional football in Division 3.
1951 - Liverpool interview Shankly for the vacant manager's job at Liverpool.
06.01.1954 - Shankly moves down the ladder in Third Division North, but saving Workington from extinction is a worthy challenge.
05.11.1956 - Takes over as manager of Huddersfield after coaching their reserves for 11 months.
01.12.1959 - Liverpool appoint Bill Shankly as Phil Taylor's successor in the managerial seat.
14.12.1959 - Shankly takes officially over at Liverpool after finishing his tenure at Huddersfield.
19.12.1959 - Shankly is in charge of his first Liverpool game, but it's far from an ideal start as Liverpool lose 0-4 to Cardiff.
21.04.1962 - After seven years in the 2nd division, Liverpool are promoted with five League games remaining!
18.04.1964 - Liverpool win the championship for the sixth time in their history after a 17 year wait with an impressive 5-0 win vs Arsenal at Anfield.
01.05.1965 - Liverpool win the FA Cup for the first time in the club's history. Shankly said it was his finest moment at Liverpool.
12.05.1965 - Liverpool knocked out of the semi-finals in the club's inaugural season in the European Cup. After a sensational 3-1 win at Anfield in the first leg, Inter beat the Reds 0-3 in Italy after bribing the referee!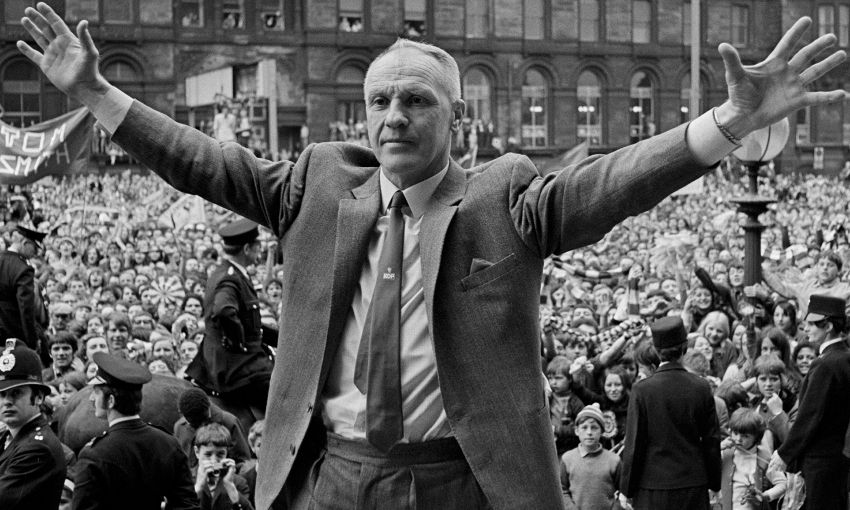 30.04.1966 - Liverpool seal their second League title under Shankly by beating Chelsea 2-1 at Anfield.
08.05.1971 - Liverpool lose 1-2 to Arsenal in the FA Cup - Shankly delivers the famous Chairman Mao speech.
08.07.1971 - Shankly agrees a new three-year contract with Liverpool which proved to be his last.
23.04.1973 - After 7 years without a title, Liverpool win the championship by beating Leeds 2-0 at Anfield. Bill Shankly was relieved after the team's barren spell: "I think we can call ourselves champions now. I'm delighted for the players, for the club, and especially for the fans, who have again proved themselves the greatest in the world."
23.05.1973 - Liverpool beat Gladbach 3-2 on aggregrate in the two-legged UEFA Cup final, almost surrendering their 3-0 lead from Anfield.
1973 - Bill voted Manager of the year, the only time in his career!
04.05.1974 - One of the most one-sided FA Cup finals in history when Liverpool tear Newcastle to pieces 3-0 at Wembley.
12.07.1974 - The football world and the whole of Liverpool are astounded when Bill Shankly announces that he is retiring as Liverpool's manager.
10.08.1974 - Shankly is given the distinction of leading Liverpool out at Wembley vs Leeds in the Charity Shield despite retiring in the summer.
12.08.1974 - Bill Shankly officially ends his 'reign' as manager of the Reds in Billy McNeill's testimonial in front of 60,000 people at Celtic Park.
29.04.1975 - Shankly's testimonial against a Don Revie Select XI - an emotional night at Anfield.
25.05.1977 - Shankly was present in Rome when Liverpool won its first ever European Cup. "This is the greatest night in Liverpool's history. This is the result of planning, of simplicity, of how to play the game in a simple manner. I think the whole world realises that it's the way to play."
29.09.1981 - Shankly passes away. The front page of Echo read: SHANKLY IS DEAD. It recorded the official hospital statement: "Mr Shankly suffered a cardiac arrest at 12.30 am and was certified dead at 1.20. Shanks had been battling for life since he suffered a heart attack early on Saturday morning. He had been making good progress until his condition deteriorated yesterday morning and he was transferred to the Intensive Care Unit. His wife Nessie was by his side when he died."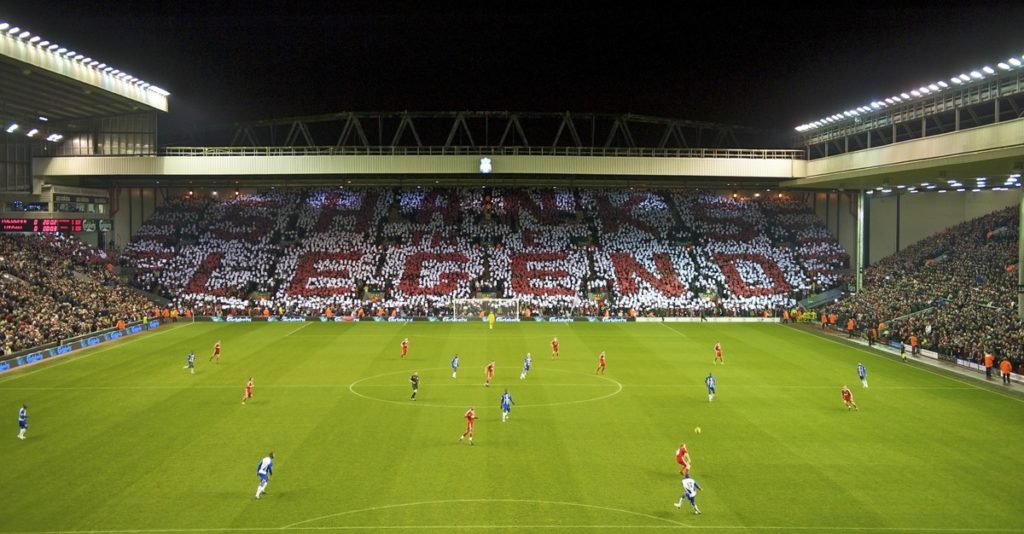 30.09.1981 - Liverpool face Finnish European Cup opponents, Oulu Palloseura, at Anfield. Reds won 7-0 and for the whole of second half the Kop sang Shankly's name to the tune of Amazing Grace. A banner in the middle of the crowd summed up the feelings ofthousands "King Shankly lives".
03.10.1981 - An emotional Bob Paisley and John Toshack lead out their teams at Anfield in the league. Tosh, who was now the manager of Swansea, created quite a stir among the Swansea faithful when he revealed a Liverpool shirt underneath his Swansea tracksuit when Shankly was remembered before the game.
22.11.1981 - "A Service of Thanksgiving for the life of Bill Shankly" held at Liverpool Cathedral.
26.08.1982 - Shankly Gates unlocked by Bill's widow, Nessie.
27.04.1997 - The Shankly memorial is erected - a fitting tribute to Shanks in his hometown, Glenbuck.

04.12.1997 - The statue of Shankly in front of the Kop is unveiled.

June 1998 - The former Spion Kop end at Preston North's End ground was replaced by a new stand named the "Bill Shankly Kop", designed with different coloured seats providing an image of the great man's head and shoulders.
18.12.1999 - A mosaic on the Kop to celebrate the 40th Anniversary of Bill Shankly's arrival at Anfield. Across the top of the stand was spelt the word 'SHANKS'. Below were two images of Shanks' face flanking the Cross of St Andrew.
02.08.2002 - Nessie Shankly passes away, 82 years of age.
2002 - Bill Shankly made an inaugural inductee of the English Football Hall of Fame in recognition of his impact on the English game as a manager.
08.11.2004 - Bill is one of the original inductees into the Scottish Football Association's Hall of Fame.
01.12.2009 - 50 years since the Scottish legend signed his contract to become manager of Liverpool Football Club.
16.12.2009 - Anfield was the stage for an emotional parade of legends along with nine members of Shankly's family. The sounds of 'Amazing Grace' – Shankly's favourite hymn reverberated at half-time during the game vs Wigan Athletic. A "SHANKS LEGEND" mosaic was unveiled on the Kop prior to kick off.
17.12.2009 - Shankly is awarded an Honorary Citizenship of Liverpool in recognition of the 50th anniversary of his arrival as manager of Liverpool FC and his dedication to the region. The award was presented by Lord Mayor Mike Storey on stage during the Shankly Show at the BT Convention Centre in Liverpool.
Timeline courtesy of Shankly.com.