Jürgen Klopp says he was encouraged by Liverpool's second-half performance as they beat Manchester City 2-1 in New Jersey.
The Reds came back from a goal behind to defeat their Premier League counterparts at the MetLife Stadium in their International Champions Cup clash.
Leroy Sane opened the scoring after the break, only for Mohamed Salah to level the game inside a minute of the Egyptian taking to the field as a substitute, and the massively impressive Sadio Mane won the game for Klopp's side with a 94th-minute penalty.
Speaking following the victory, Klopp shared his views at his post-match press conference.
On his evaluation of the game…
The second half pleased me; the first half I was not so pleased with, how you can imagine. Pre-season is a really strange period. It's so important. On the other hand, you constantly play football you don't want to see because the legs are heavy and it's really difficult for the boys. You see how they react in a different way to all the sessions we do. In the first half there were obviously a lot of big legs, they were tired kind of. You could see it; no freshness, nothing. Then the problem is of course, the formation usually is good for playing football but you need depth in your game. We didn't have that, we didn't offer it one time.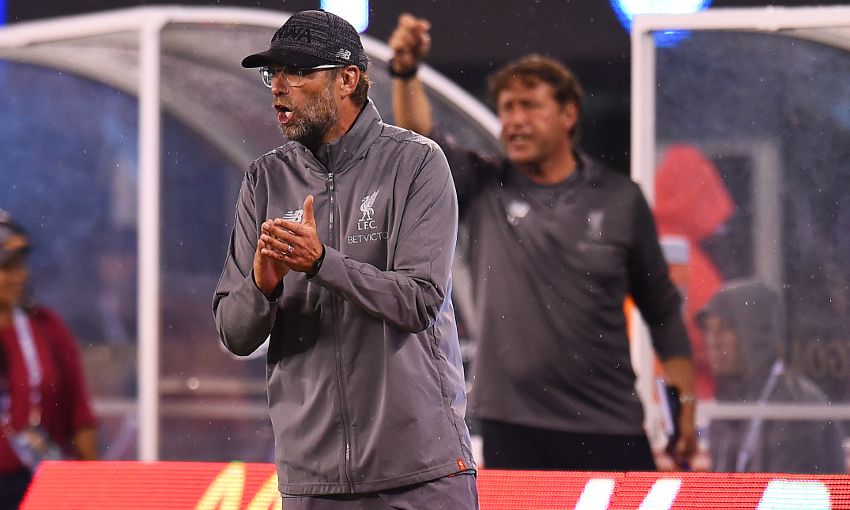 You saw the difference already when Sadio came on. Now you can prepare direction, you can play balls in behind, which makes life difficult for the opponent. So, with this and then all the other changes after 60 minutes, bringing in fresh legs and obviously a lot of desire to play football, we changed the game. So I'm happy with the second half. On the other hand, physical-wise it was important that a lot of players could play 60 minutes for the first time, in difficult circumstances again.
On whether or not there are any doubts over Salah's shoulder injury…
I said before the game, it's not that he has problems – he has no problems. He only needs to get used to all the different things. We do a lot with the shoulder to strengthen the muscles and all that stuff. Usually you don't do anything with the shoulder but in rehab you feel this and feel that, and you need to learn that's normal. He is in that moment but he has absolutely no issues, I was not concerned about it otherwise he wouldn't have played.
He came in and scored after pretty much 35 seconds. He had a big impact together with Sadio and Dom, and the midfield with Marko, Pedro and Ben played fantastic. Both full-backs were then really involved in the offensive situations, which we didn't have too much in the first half. Both centre-halves were there. Nat Phillips on this level is surprised by himself, that's really cool; Raggy did well; and Caoimhin had a nice save. So it was really a nice second half which helped us a lot because we all see it's still there, it's all good. We only need to keep on working and make sure that in two weeks we have fresher legs than tonight.
On the pitch at the MetLife Stadium…
[I was] not really worried. [I was] more worried for the pitch, to be honest, because I thought we'd kill it completely. There were little pieces everywhere. The Man City guys tried how the ball bounced on the pitch. You saw with the passing, it's not good, not perfect for football. The stadium is outstanding, it's great – the dressing room is as big as Anfield. The crowd was sensational, it was really cool. The pitch and the grass was not perfect. But pre-season is there for us to try to perform in the most difficult circumstances. In the second half no player was disturbed by the pitch, to be honest; the first half a bit more, all good.
On Joe Gomez's potential position…
I know Joe can play both, that's how it is. In the moment we have a young winger who can play full-back: Rafa Camacho. Obviously he enjoys the offensive part of the job more than the defensive part but it's quite good. Clyney is here, so Joe can now get minutes at centre-half. He did really well; all his strength, speed, power and passing is really good in this position. I like it a lot.
But it's absolutely possible he'll play the next game for example at full-back. He can do that, we don't have to make it more complicated than it is. We don't know what happens until the start [of the season]; we don't know if Joel is back until then, we don't know exactly how Dejan is coming back. So that Joe can play both positions is for sure a big benefit for us.
On whether beating City provides any indication of how the season might unfold…
I'm pretty sure Pep [Guardiola] was a little bit angry because he doesn't like, or he hates [losing], like I do. I was not a bit happy about the Dortmund game, even when there was a lot more good situations than today, especially in the first half. If you lose a game, you lose a game. How can you be happy? And if we win a game, that's cool. That it was against Man City, we lost against Dortmund so what does that mean? We won against City, what does that mean? It's pre-season, it's really not important. The game for us was very important, but it is not a sign in the direction or whatever. It's only a game we played and a lot of good moments which we can use and a lot of bad moments we can work on. That's all.
On what's going to represent success for Liverpool this season…
Improvement, development, using our football last season as a basis and make the next steps. More consistency – we were not inconsistent, but we can be more consistent. I know that people want to hear that I tell you we can win this or that, but I have no clue if we will win something. But we will go for it with all we have. We don't look for excuses and if people now say with this squad we have to [win something], that's really not interesting. Man City played the football of tonight and then on Monday I think 11 players come back. Man City are coming back then; they are outstandingly strong. United, Tottenham, Arsenal, Chelsea and the other ones. It looks like Wolverhampton will be a proper threat and stuff like that. Beat them all in a specific moment, that's the plan. If it happens, it's good and if not then we have to work on the next game.
The mood in the club at the moment is really good and we want to build on that, we want to come even closer. In a world where everything is separated, we want to come even closer together as a club and use that to make the next step and enjoy ourselves. The boys have to enjoy their football, we have to enjoy our football, otherwise it makes no sense. We cannot only go for a 1-0 here, 1-0 there – I know if you win silverware in the end then people are probably happy, but the whole year was still rubbish.