Jurgen Klopp was linked with a number of clubs after leaving Dortmund, and the German outlined why he chose to manage Liverpool.
The Reds manager replaced Brendan Rodgers at Anfield in 2015, with his acquisition a real statement of intent from Liverpool and owners group Fenway Sports Group.
Klopp was regarded as being one of the best managers in world football, having won two Bundesliga titles with Dortmund and reaching the Champions League final in 2013.
Following his departure, the 50-year-old was the number one target for many clubs who were looking to change managers, including rivals Manchester United.
However, Klopp who has always assumed the role of being a 'football romantic' explained why he chose to take over the helm at Liverpool.
"I love the history. I really am a football romantic. I knew I probably can help," Klopp told Robbie Fowler, speaking to the Mirror.
"They maybe really need me, in this time. I know what I'm good at.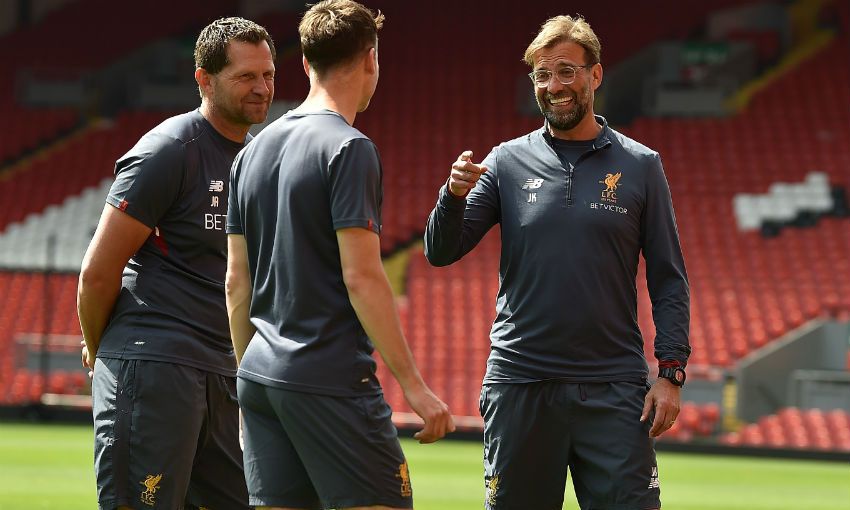 "When they told me about the problems they had I thought, 'OK, yeah, I am probably the really right manager for that club'.
"A little thing. Liverpool is a world class brand, big, big, big, but in Melwood, you know it Robbie, it is still a family, nothing else, and you can go in and feel that.
"I have to develop and improve, sure, but I don't want to go into the office in the morning to wear a tie. That is not me.
"I go in with a baseball cap and they still respect me, I don't have to act in a specific way.
"They took me like I am, they didn't ask me to do anything else, so I could focus from the first day completely on football."
The boss went on to suggest other clubs he held talks with were too concerned with non-footballing aspects he didn't care for.
He said: "It is a football club. A football club. I had talks with other clubs and they didn't sound like a football club.
"It sounded like marketing, image, you need to sign this, you need to sign that. And I thought wow, that's not the game I love.
"It's all part of football, but it can not be the number one, two, three, four, priority.
"First of all please try to improve the game we play. And that's what I am good in. All the rest can happen but it's not so important for me."
Klopp's time at Liverpool so far has reinvigorated the club, with supporters certainly evolving from 'doubters to believers' - as Klopp asked of them when he arrived.
The manager will lead his Reds side against Real Madrid in the Champions League final on Saturday, hoping he can be the man to add a sixth European Cup to Liverpool's history.
Klopp signed a six-year contract extension in 2016 as he secured his long-term future at the Merseyside club. Liverpool owners FSG unequivocally said in a statement, "to not do so would be irresponsible."
"The ideas and plans he has for the football infrastructure excite us," they added.
The Reds boss has always maintained he is not looking to emulate Sir Alex Ferguson or Arsene Wenger in the longevity of their managerial careers.
It remains to be seen how long the boss remains at Anfield, but supporters ought to enjoy the ride whilst it lasts — we may never see someone with the same special approach to football as him.