Jürgen Klopp met with the media in Singapore to discuss Liverpool's 4-0 win over Leicester City inside of National Stadium. The boss revealed his overall impressions of the match, Darwin Núñez's goalscoring form and what the Reds' midfield might look like in the future.
A Propper Shift From The Reds
Even the most critical Liverpool supporter would be hard-pressed to find things to complain about after this one. The squad garnered 26 shots and put 12 on frame. They also dominated possession for large portions of the match. Klopp was also positive, not only about the result, but also the way his team played.
"Obviously we scored wonderful goals, that was good, created great other chances, that was good," Klopp said. "So, I'm absolutely fine, the result is top, nobody is injured, just a few knocks. The atmosphere was top during the game but especially after the game. The lap we had afterwards, it's really special, I have to say, and we now experience it a couple of times but it's special. What the people are doing here, thank you for that. Yeah, a good day in the office. All good."
Núñez Nets Another Goal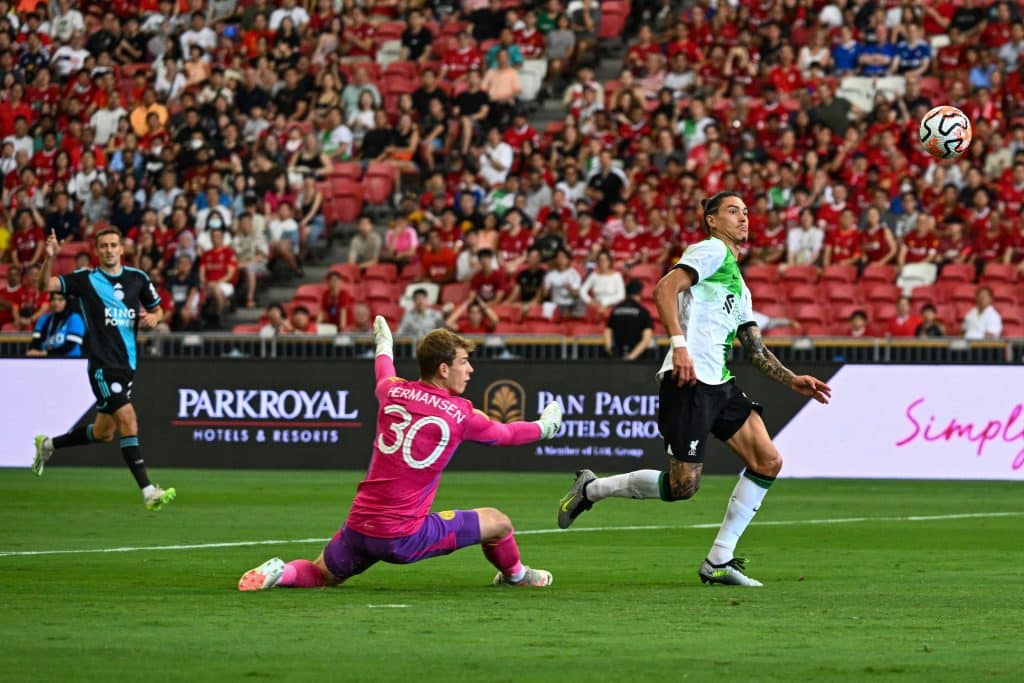 Just like last pre-season, the striker has shown a knack for finding the back of the net. Last year against RB Leipzig, Núñez scored 4 times in one match and then went on to struggle at points in the season. This year he is also off to a torrid start.
"I think the signs Darwin showed already last season were really good," Klopp said. "Injuries and the red card were not helpful in the start directly and these things, but it's all good.  For Darwin [it's] the same like for all the other strikers as well because I know about the quality they have and they need to do both, like our other players have to do both as well – defend and being influential in all the offensive situations. It's good, you can see he is a handful, the speed and the goal was a typical goalscorer's goal. Being there, smelling it and finishing it off. In training he looks really good. He is fit, that helps, and now two more games and Chelsea."
The Morphing Midfield
It's no secret that the Reds' midfield will look a lot different than it did a season ago. Gone are mainstays James Milner and Jordan Henderson. Alexis MacAllister and Dominik Szoboszlai are capable replacements, but who is next in line in case of an injury?
"Harvey  Elliott and Dom are proper contenders for the positions, definitely, and I think both proved why, both showed really exactly what we need in that position, so that's why there's nothing sorted yet," Klopp said. "Calum [Scanlon], the desire to play; Mel [Frauendorf] is a bit longer with us, but he makes big steps every year; Ben (Doak) of course; Bobby (Clark) scored his first goal today; (Jarell) Quansah grew in the last years, not only physically but as a man as well – a proper centre-half; (Lewis) Koumas, very early but physically already there, has all the things you need as a kid to become a real player – the speed, the technique and all that stuff. That's good, let's see where it will lead us to, but if these boys play the main role next season then we will have a problem because whilst we use these boys in moments where it's really going well, then one here and one there and they have still time to develop – and we give them that time. The other players have to sort the things for us – and Dom and Harvey are obviously two of them. We absolutely count on them, that's clear." 
LFC Globe Verdict
As is typical with Klopp, he picks out points of praise and some things that need work to highlight when he speaks to the media. While he was pleased overall with how the team played, he added that they needed to move the ball quicker around the goal. He also has some big decisions to make in the midfield and indicated that the final two pre-season games would go a long way in determining who would land those roles.